Changing Breast Pumps Forever
This image shows a far superior breast pump to the one we all know and hate.  The pump in the background is what we know.  It is loud, semi-painful, unflattering, time-consuming, and "utterly" ridiculous. (Like the pun there? Yes, I referred to the pump as if it was milking a cow. I'm that good.) The future may be here mamas!  I feel a bit ridiculous that after birthing four babies, I didn't think to update the breast pump.  That being said, I wish the amazingly brilliant couple behind the company Babyation who created this ingenious idea all the best - and all the glory that comes with changing the breastfeeding world! The breast pump is not a new invention.  In all reality, it has been around since before we can even imagine (1854 - YES eighteen hundred fifty four) with the original contraptions looking more like this: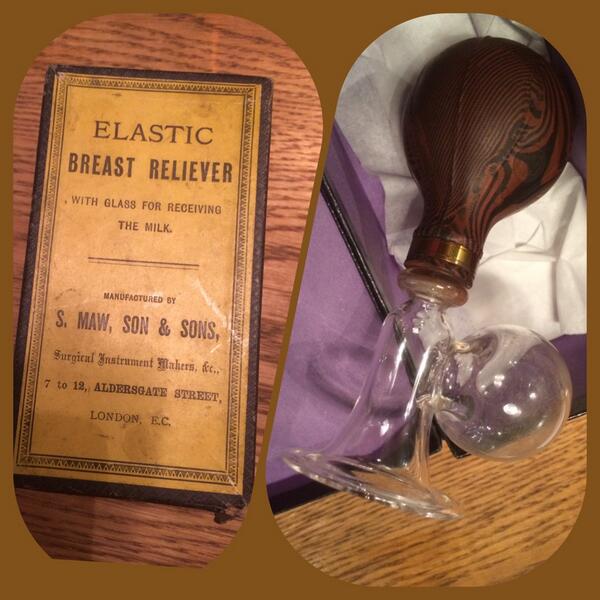 It is time for change.  After two years of designing and redesigning, Babyation created a prototype and
launched a Kickstarter campaign
to make its invention a reality. So far, the company has made $39,000 of the $50,000 goal.  Let's help them meet their goal! Babyation was inspired to create a new breast pump after one of its founders read a New York Times blog that posed the question:
shouldn't the breast pump be as elegant as an iPhone and quiet as a Prius by now?
The reimagined product was made with the modern mom in mind, as it can be
controlled through an app on your smart phone
and is completely customizable. Not only that, but the new breast pump has a completely different design that will allow you to pump comfortably and discreetly anywhere, anytime. Instead of having the bottles hang off the breasts, the new design uses breast shields that can fit inside a bra. YES - INSIDE the bra... Holy incredible idea!!!  (Again, HOW did I not think of this??) If you have ever needed to find a lonely room to pump in, you will truly appreciate this design. Babyation believes that an outdated breast pump "literally
creates a barrier between a woman and the world around her
– at work, home or anywhere in between." This new design has been
validated by a pediatrician
, who is also a lactation consultant. There is a downfall though.  If the product makes it to shelves, the cost may be hard to swallow.  The new pump will
cost roughly $584
. Babyation co-founder Sam Rudolph said, "Our research has indicated that moms will be willing to pay a slight premium for the revolutionary features our pump offers." That's a lot of money, BUT if I had to return to work in a building or be on site for work, this pump would be worth every single penny!